Tonight was the first Guitars Over Guns performance at Cutler Bay Middle School. Well technically, the performance was yesterday. You see I'm writing this blog post at 12:40AM because what I just experienced raised my adrenaline levels, fanned the flames of anxiety, almost brought me to tears, and then compelled me to jump out of my seat and cheer like my team just won a double overtime NBA basketball game.  
But alas, I'm not describing a worldwide sporting event watched by millions of crazed fans. I'm describing a middle school holiday concert. 
It just so happens that this middle school holiday concert felt like a worldwide sporting event watched by millions of crazed fans…to me…and perhaps to the kids performing at the concert. Let me explain.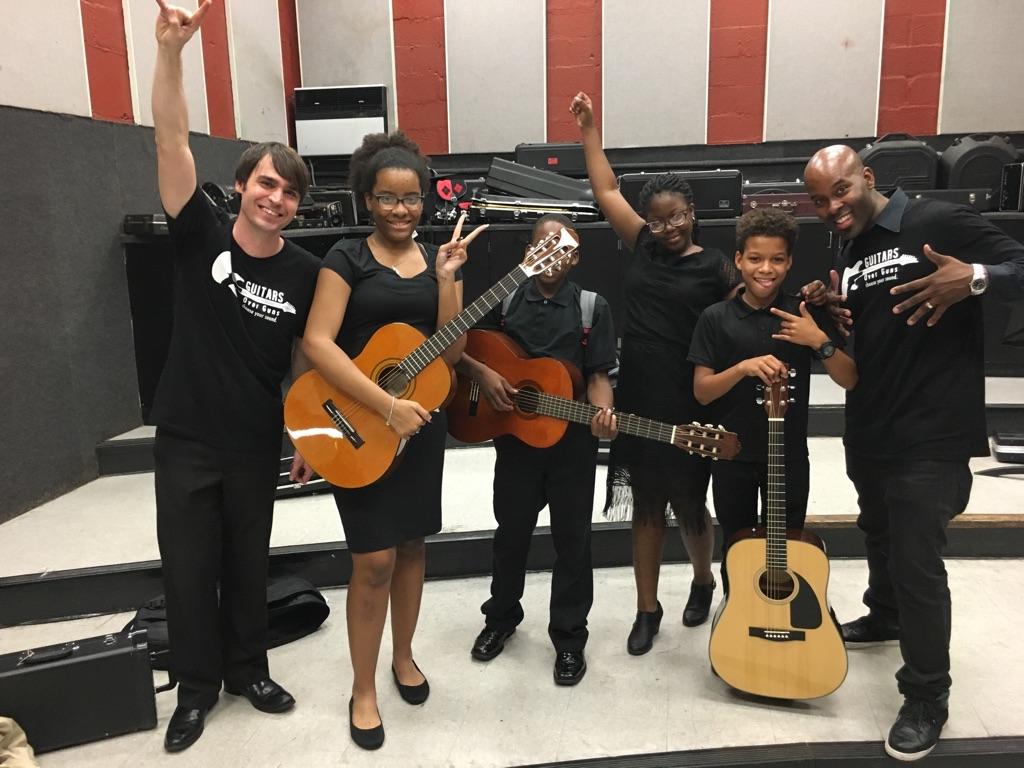 Two days ago, I took 3 of my GOGO students to a Miami Heat game as a reward for their hard work and good attendance this semester. I had the privilege of singing the national anthem before the game and they got to join me at half court during sound check before the game. Before the game started, Hailey asked me, "Mr. Eric, do you get nervous before you sing in front of all these people?" 
I told her that I actually get more nervous in front of small crowds because then I can see each face and reaction of every person in the room. I explained that big crowds are kind of like singing to one giant circle of people and that's much easier to do. When I'm singing to big crowds, I just do my best and forget about what they're thinking because I'm singing from my heart. 
When Zoraya hit me with a follow up question I knew I had to come clean. She said, 
"So you don't get nervous at all?" 
I told her the truth. Which is that I normally don't get nervous until the moment right before I sing. Then I gave her some advice I try to live by. 
If you don't feel nervous about a performance that's a good sign, because it's probably gonna go smoothly. If you do feel nervous about about a performance it could be a great sign. It probably means you're stepping out of your comfort zone and about to do something you never thought you could do before. 
That night, Kevin, Zoraya and Hailey attended their first double overtime NBA basketball game. They ate sushi for the first time, and got close enough to the pyrotechnics set up courtside to literally feel the Miami Heat. I brought them along because I wanted them to know that they could feel how I felt after singing the national anthem in front of all those people at the arena. 
I don't mean that I want them to become career musicians. That's not the most important thing here. What I want is for them to know what it feels like to be celebrated for their accomplishments. I want them to be passionate about something. I want them to face their fears, push through adversity and rise to the top of whatever it is they choose to pursue. 
Tonight, this middle school holiday concert felt like a worldwide sporting event watched by millions of crazed fans. 
It felt that way because I was there when these kids were afraid to sing in front of their peers. 
It felt that way because over the weeks leading up to the concert I heard some other students telling a male singer, "You sing like a girl!" 
It felt that way because in one night, I saw a shy girl become a butterfly onstage. 
When you support Guitars Over Guns, you give a gift we all want. Everybody wants to be celebrated. 
When I looked up on that stage tonight, I saw the moment these singers felt what I felt in the Miami Heat arena after singing the national anthem. They were being celebrated for their hard work, and they were being congratulated by their friends and loved ones. Some who never thought these kids could bring a crowd to its feet. 
Hey, I know that this middle school concert wasn't a double overtime NBA win, but which one is really more important to celebrate? 
All I know is that it's 2AM and I'm gonna go watch that video again. Those kids crushed it.